Née à Toulouse en 1994 la Fraktal Crew se développe tous azimuths pour le plaisir de tous les hard Kore aficionados. Les activités :
Nacida en Tolosa desde 94, la Fraktal Crew se desarrolla de todas partes para el placer de los aficionados del hard core. Los actividades:
Borned in Toulouse since 94, the Fraktal Crew is on all fronts for the pleasure of the hard core aficionados. The activities:
Matt, Thanos, Gyl, Taciturne (Fishkopf).



This little lucarn. It's...
...Dj Thanos during the teknival 18 near Millau.
Here you can listen his music (WAV 160k).


Contact for booking, demotapes:0562480243 (tel & fax)

---
Mouse (Auto-Psy on Fishkoff).
Contact: Stella Michelson

No Name (Erase Head on Anticore).
Contact: Poka Michelson

Virus.
Contact: Joel Giraldou

---
Discography:


Fraktal 01 - Mouse EP
Anticore 01 - Mouse EP
Anticore 02 (AK02) - ERASE HEAD (No Name on Fischkoff) JAN 97

Anticore 03 (AK03) - DEMOISELLE DOUCE INNOCENCE vs METRONOME SEPT 97
Virus 01 - A SEPTIC TEST 01 DEC 96

Virus 02 - SEPT 97

---
E=MC2 DISTRIBUTION

Is distributing in the south of France vinyls, cassettes and fanzines "De Mag", "Datacide", "45+8".

Contact: 0561545065

---
45+8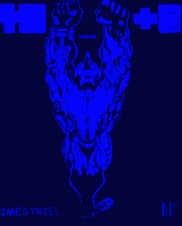 Already 5 numbers.